Thomas Kaufmann
Violoncello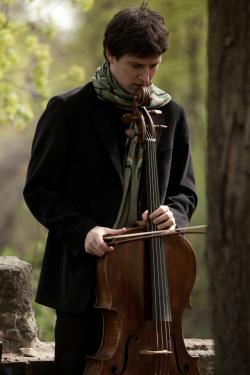 The Austrian cellist Thomas Kaufmann pursues a multifaceted international career. As soloist, chamber musician or solo cellist of several European ensembles, he has performed at the main festivals and concert halls in Europe, North and South America, Australia, Africa, Japan and South Asia, e.g. the BBC Proms, the Festival of Lucerne, the Mexico Festival, the Chelsea Music Festival New York, the November Festival Chennai (India), or the Kyoto International Music Festival.
In 2008 he joined violinist Gergana Gergova and pianist Pavlin Nechev as the cellist of the Trio Imàge. The Imàge's debut CD of the complete piano trios by Argentine composer Mauricio Kagel has been awarded the prestigious German ECHO Klassik 2014 prize for the best world premiere recording of the year. The Trio Imàge is a laureate of the International Joseph Joachim chamber music competition of Weimar and the International chamber music competition of the Commerzbank, Frankfurt. The members of the trio are also involved in pedagogical activity on behalf of young musicians and teach masterclasses and workshops at conservatoires and music academies all over the world, including as a collaboration with the Goethe Institut.
Thomas Kaufmann is also the cellist of the Zuckmayer Ensemble, specialised in the quartet and quintet repertoire of the Viennese Classicism, under the direction of Austrian composer and violinist Christoph Ehrenfellner.
As first solo cellist of the string ensemble Camerata Bern, Thomas Kaufmann works regularly with renowned artists such as Antje Weithaas, Patricia Kopatchinskaya, Christian Tetzlaff, Erich Höbarth and Lars Vogt for performances of the classical and contemporary repertoires. In addition, the baroque repertoire rendered on period instruments (duplicates) according to the historically informed practice is a special interest of the Camerata. In this field, the Camerata Bern works and performs regularly with famous specialists of ancient music, such as Chiara Banchini, Enrico Onofri, Rachel Podger und Amandine Bayer. Thomas Kaufmann was elected a member of the Camerata Bern's Stiftungsrat (Foundation Council) and Programme Committee in 2014.
From 2014 to 2016 Thomas Kaufmann was appointed professor of violoncello at the Hochschule für Musik und Theater Rostock (High Institute of Music and Theatre of Rostock, Germany).
Thomas Kaufmann was born in 1981 in Graz (Austria) into a music-loving family, and grew up in the idyllic region of the Eastern Steiermark. He was a pupil of Hildgund Posch at the Hochschule für Musik und darstellende Kunst in Graz (Academy of Music and Theater). After his certificate, he studied with cellist Heinrich Schiff at the Universität für Musik und darstellende Kunst of Vienna (University of Music), graduating in concert performance in 2006. He completed his training in Berlin, at the famous Hochschule für Musik Hanns Eisler (Conservatoire Hanns Eisler), where he studied chamber music with Eberhardt Feltz, and obtained his M.A. chamber music in 2011.
Thomas Kaufmann's special interests are the way of life and musical traditions past and present of the Austrian and Swiss Alps and in East Africa.